Vegan chocolate mousse graveyard recipe from ProCook
Snacks and nibbles are a must at Halloween, but what about catering for vegan diets? Fear not – these vegan chocolate mousse graveyards are the perfect dish and guests will find them delicious, whether they're vegan or not! Adapted from this recipe, each mousse can be personalised and has a rich, thick and creamy taste.
By following our step-by-step recipe below, this spooky graveyard can be created with ProCook products (see our list below for guidance) and remember to eat, drink and be spooky this Halloween.
Vegan Chocolate Mousse Graveyard Recipe
Prep time: 10 minutes
Servings: 8 people
Ingredients
Chocolate Mousse
4 avocados
16 tablespoon cocoa powder
16 tablespoon vegan maple syrup
240 ml almond milk
Graveyard
8 vegan shortbread fingers
2 tube vegan chocolate piping icing
2 pack vegan iced flowers
300 g vegan coco pops
Instructions
Add the avocado and 4 tbsp of cocoa powder to a bowl and mix.
Pour in half of the milk and stir.
Add 2 tbsp cocoa powder and the maple syrup to the bowl and mix.
Add the remaining milk and cocoa powder and mix.
Spoon into serving glasses taking care to leave a little space at the top.
Place in the fridge for at least 30 minutes to chill.
Pipe gravestone messages on to the shortbread and set aside to harden.
Remove glasses from the fridge and top with crushed coco pops to represent mud.
Gently push your shortbread fingers into the mix so that they stand upright and surround with the iced flowers.
Serve immediately.
Products used: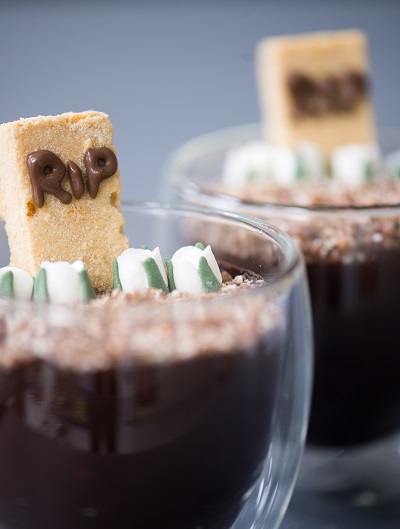 Last updated Wednesday 16 August, 2023