Ready, steady, shop!
We put the kids in charge of the back to school shopping trip
The back-to-school shop is often loved by kids and loathed by adults. But what if all the difficult decisions were taken away from parents and guardians and instead handed to the kids themselves? 
At Glasgow Fort, we decided to put the kids in charge!
So, with the new term approaching, we asked The Social Mama, Aimee, to put her daughter, Callie, in control, from choosing which of our many retailers to visit to where to go for lunch – and everything in between!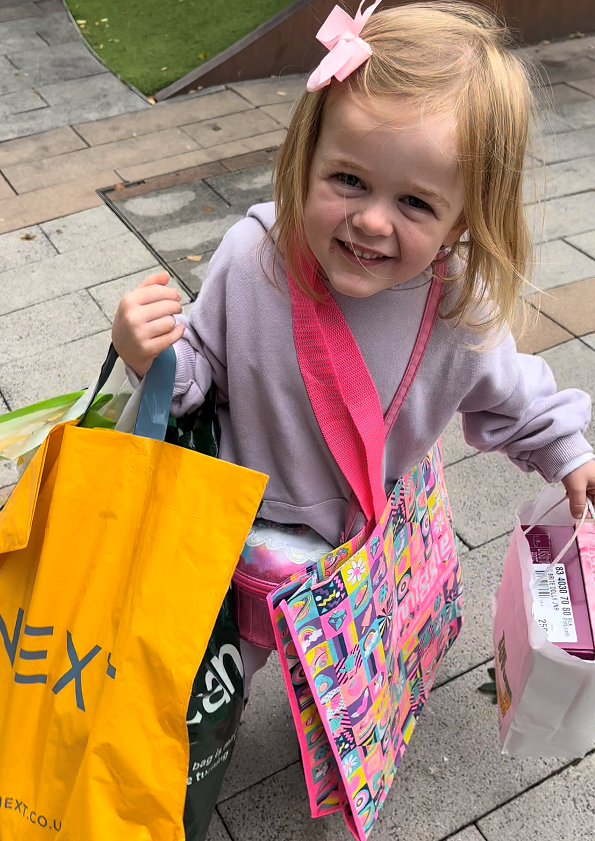 During a fun-filled day out, Aimee posed a few questions to Callie on what they got up to and how they found their back-to-school shop at Glasgow Fort:
"We had a great day, I had so much fun shopping with my mummy! We went and bought all of my new shirts and dresses and then went to get my new shoes from schuh Kids. We also went and had yummy pancakes at Stack & Still and had lots of fun in the play area – the slide is my favourite!"
What do you love about the pencil case that you've picked from Typo?
"That it has a big blue unicorn on the front and lots and lots of sparkles!"
What are you most excited to use and wear when you go back to school?
"To wear my white shirt, my dress, and my new shoes – I love it all!"
What was the favourite part of your day?
"All of the shopping and buying my new clothes. Oh, and the pancakes!"
Watch Aimee and Callie's day out in full on The Social Mama's Instagram.
If you are feeling inspired by their trip, start planning your own back to school shop at Glasgow Fort — from M&S and Next to schuh Kids and Smiggle, there are plenty of retailers to choose from.
Discover our back to school shopping checklist
Last updated Wednesday 16 August, 2023