Halloween – Devilish Deviled Eggs
Whether a child or grown up, Halloween can be enjoyed by everyone, but it's also a chance to cultivate culinary skills with some spooky recipes – including these fun deviled eggs! Taking on a whole new meaning of the word deviled, this dish is complete with little horns and a fiery kick, adapted from this recipe here.
By using ProCook products and following our step-by-step recipe below, these are incredibly easy to make. From a saucepan to chopping board, you won't need much to create these spooky scary eggs and you can bring in the little ones for help too. See our product list below for guidance.
Devilish Deviled Eggs Recipe
Prep time: 15 minutes
Cook time: 12 minutes
Servings: 12 devils
Ingredients
6 free range eggs
2 avocados
½ lime (juice)
½ tsp hot sauce
1 pinch salt
½ red pepper
1 tsp dried coriander
Instructions
Hard boil your eggs in a deep pan of boiling water. Set aside and allow to cool.
Slice your eggs in half and scoop out the yolks. Place the yolks in a medium mixing bowl and set aside the egg halves for later.
Add chopped avocado to the bowl and using the back of a spoon mix together.
Add the lime juice, hot sauce and pinch of salt and mix until smooth.
Add the coriander and mix again.
Spoon the avocado mix into the holes in each egg.
Slice red pepper into thin strips, and using the pointed tips of your slices add two to each egg to resemble devil horns. Serve immediately.
Products used: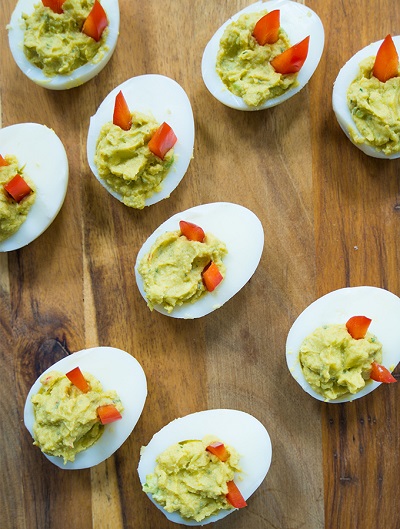 Last updated Wednesday 16 August, 2023