Marks & Spencer
From high quality clothing and footwear to underwear, accessories and leisurewear for fashion-conscious, modern day men and women, Marks & Spencer offers all of your fashion essentials under one roof. The store also offers a range of prestigious own brand labels including Autograph and Per Una. Catering for all ages and all the family, M&S offers a trendy range for little ones too.
M&S offer a range of food, wine and flowers, as well as Homeware. A range of cards and gift wrapping products are also available.
Some stores also offer a Bureau de Change – please check with individual stores.
Find out more.
Address Glasgow Fort Shopping Park
Glasgow
G34 9DL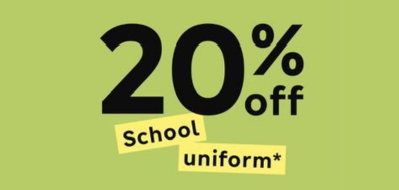 M&S | 20% off Back to School
Did you know our school uniform prices have been frozen at the same price since 2021! Light, cool and super-comfy, our school uniform is cleverly designed to last longer and stay cleaner. With repellent finishes for added durability, crease-resistant fabrics and scuff-resistant shoes, our tried and trusted uniforms will let kids enjoy work and play from registration until home time. Please visit our website for more details.
Terms and conditions apply
Scroll to view more offers